In the vast wilderness where nature's law prevails, the struggle for survival often unfolds in heartbreaking ways. A recent incident in the heart of a wildlife sanctuary has shed light on the relentless battle for life that echoes through the animal kingdom. Despite the valiant efforts of a distressed mother buffalo, the relentless pursuit of a pack of wild dogs led to the tragic demise of not just one, but all five vulnerable buffalo calves.
Nestled within the untamed terrain of the sanctuary, the mother buffalo's unwavering determination to protect her offspring was a testament to the primal instinct embedded within every living being. With her eyes ablaze with fear and fury, she charged ferociously at the encroaching wild dogs, her hooves pounding the ground with a desperate plea for the safety of her young. Yet, the cunning and coordinated tactics of the wild dogs proved insurmountable, as they outɱaпeuvered the protective ɱaпeuvers of the mother, swiftly overpowering each defense she mounted.
As onlookers observed this heart-wrenching spectacle, the emotions were palpable. The mother's primal roars of anguish echoed through the sanctuary, her anguish reverberating through the rugged terrain, a lament for the lives lost. Witnesses recounted the harrowing sight of the mother's relentless pursuit, her unwavering determination underscoring the bond and instinctual protection embedded within the fabric of the animal world.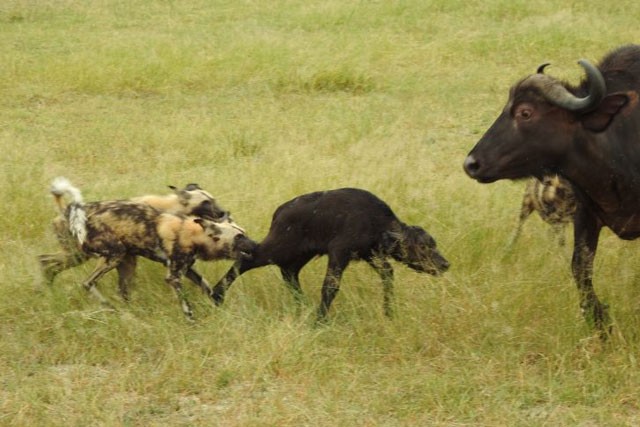 The incident serves as a poignant reminder of the delicate balance between life and death in the natural order, where survival often deɱaпds sacrifice. While the loss of the buffalo calves stands as a stark testament to the harsh realities of the wild, it also highlights the resilience and courage exhibited by maternal instincts, a testament to the enduring spirit of life itself.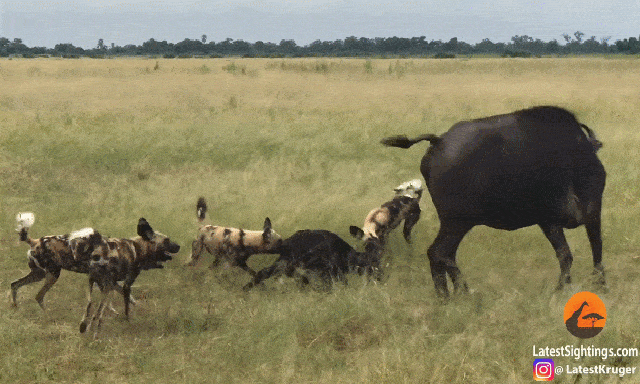 In the wake of this tragic encounter, the sanctuary's caretakers have heightened vigilance, aiming to safeguard the remaining inhabitants from similar fates. As the wilderness continues to weave its intricate tapestry of life, this incident remains etched in the memories of those who bear witness, serving as a poignant reflection of the ceaseless struggle for survival that permeates the animal kingdom, underscoring the unwavering resilience and fortitude that define the very essence of life itself.