In the heart of the savannah, a brutal conflict unfolded, defying the expected hierarchy of predator and prey. The stage was set for an unprecedented encounter, as a ferocious wild boar, driven by instinct and a relentless will to survive, faced off against a hungry lion, determined to satiate its primal hunger.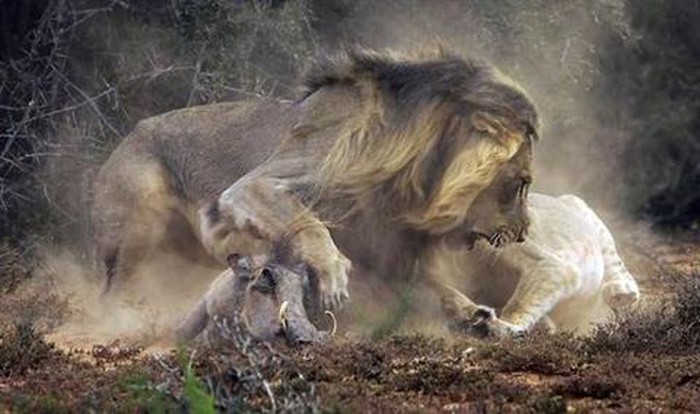 The clash between these two formidable adversaries was nothing short of primal savagery. The wild boar, armed with its formidable tusks and an unwavering determination, launched itself at the imposing lion, refusing to be a mere vicᴛι̇ɱ of the feline's predatory prowess. The lion, accustomed to asserting dominance with ease, was taken aback by the boar's audacious defiance, as the two engaged in a frenzied battle of strength and will.
Tusks clashed with teeth, and primal roars reverberated through the vast expanse, drawing the attention of other creatures in the vicinity. Dust and debris billowed around the combatants, as the struggle intensified into a fierce and relentless contest for survival. The lion's powerful paws sought to overpower the boar, while the boar's razor-sharp tusks aimed to deliver a devastating blow to its formidable foe.
Witnesses to this unexpected spectacle were left awestruck, as the usual dynamics of the animal kingdom were turned on their head. The fierce determination displayed by both adversaries highlighted the unyielding spirit of survival that drives every living being in the wild. The clash symbolized a battle not just for sustenance, but for the very essence of existence in the unforgiving realm of the wilderness.
In the end, after an intense struggle that seemed to transcend the boundaries of ᴛι̇ɱe, the lion emerged victorious, its primal instincts ulᴛι̇ɱately prevailing. The wild boar's valiant fight, though ulᴛι̇ɱately in vain, served as a testament to the unrelenting resilience of the natural world, where the struggle for survival is a relentless and unforgiving force, shaping the delicate balance of life and death.