Searching for the moment when five Cheetah brothers swimming across flooded river. Wildlife is extremely fascinating and it frequently offers sights to behold. Such a rare moment was recently captured on camera by two wildlife photographers. Armed with a lot of patience and passion, Arnfin Johansen and Buddhilini De Soyza have been witnessed an extremely rare sighting.
#1. Five Cheetah Brothers Swimming Across Flooded River Pics
While on the Masai Mara Reserve, in Kenya to snapshot the Mother Nature in its purest way, the two were at the right place the right time to take some breathtaking images. The two photographers were on the banks of the Talek River, when a group of cheetah decided to cross flooded river.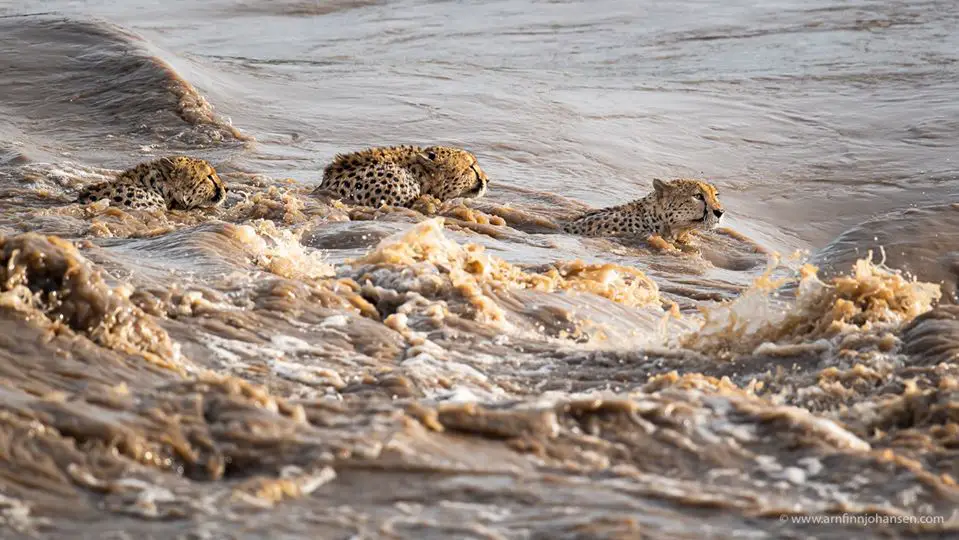 The five felines, all brothers decided to swim across the river, despite its danger. They were not only swimming against the current, but the Talek river is also overpopulated with crocodiles. And even though cheetahs are the fastest land animals on Earth, the thing are completely different when swimming. According to the photographers, the five brothers all made it to the other side.
"A unique situation to witness made the perfect ending to the day," the initial Facebook post reads. "When the five cheetah brothers decided to cross the flooded Talek River despite of high current and the danger of crocodiles. The three biggest were the first to cross, the two others followed a little while after."
According to Femke Broekhuis – project director of the Mara Cheetah Project, "the Maasai Mara is one of the few remaining strongholds for the global cheetah population." There are less than 7,000 individuals left in the wild…